Has Vikas Dubey been killed in an encounter with UP police? The twitter is trending and the news is flashing that one of the three police cars taking criminal Vikas Dubey to Uttar Pradesh, overturned early this morning on the highway.
Hospital confirms #VikasDubey killed in #vikasDubeyEncounter pic.twitter.com/tc9vh7uImP

— Payal Mehta/પાયલ મેહતા/ पायल मेहता/ পাযেল মেহতা (@payalmehta100) July 10, 2020
According to India Today: Vikas Dubey has been killed in an encounter in Kanpur. The encounter broke out between Dubey and the Uttar Pradesh STF (Special Task Force) when the gangster tried to escape. Vikas suffered a few bullets shots and he later dies of his injuries. His death is yet to be confirmed by the officials.
Earlier Reports on Vikas Dubey
Unconfirmed reports suggest the car that overturned had Vikas Dubey in it. Vikas Dubey, on the run since he organized the slaughter of eight cops in Kanpur last Friday, was arrested yesterday at a temple in Ujjain, Madhya Pradesh.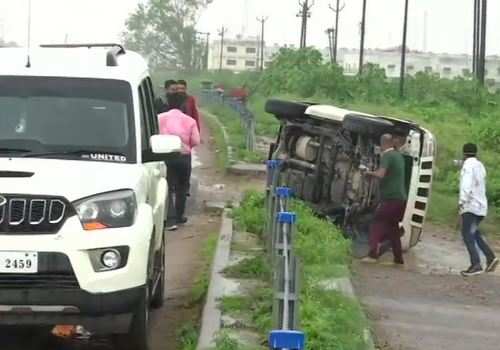 A per Times of India – One of the vehicles of the convoy of Uttar Pradesh Special Task Force (STF) that was bringing back gangster Vikas Dubey to Kanpur overturned on Friday morning. The accident happened at around 7 am. There are reports that Vikas has been injured along with an STF sub-inspector and two constables. However, an official confirmation is awaited.
Uttar Pradesh Special Task Force (STF) team along with history sheeter #VikasDubey who was arrested in Ujjain (Madhya Pradesh) yesterday, reaches Kanpur. pic.twitter.com/C405jxATZr

— ANI UP (@ANINewsUP) July 10, 2020
Questions were raised on the manner in which he was caught and whether it was an arrest or the gangster turned himself in at a time and place of his choosing. Senior UP police officer Mohit Agarwal said: "We had caught many of his associates and a few were killed. So definitely he was trying to save his life and on the run."
Vehicle of UP STF team bringing gangster #VikasDubey from MP overturns in Kanpur https://t.co/rdxAyI0FL1 via @TOICitiesNews pic.twitter.com/FTwMBf7kV0

— The Times Of India (@timesofindia) July 10, 2020