As India remains engulfed in conflicts with both Pakistan and China concurrently, one thing that the Indian military officials would be keenly evaluating is the drone strength of both adversaries.  
Last year's war between Azerbaijan and Armenia over Nagorno-Karabakh clearly demonstrated the decisive advantage attack drones could bring to any battlefield.
Drone strikes by Azerbaijan targeting Armenian troops, destroying military installations, tanks, air defense systems, and artillery tilted the balance of the war in favor of the Turkey-backed country. The war over Nagorno-Karabakh was unequivocal proof of the strategic advantage provided by armed drones to the militaries possessing them.
Drones have proved to be a powerful, effective and low-cost alternative to conventional weapons, and countries around the world are in a race to acquire the most advanced armed drone fleets.
The US was the first country to use Predator armed drones in Afghanistan following the 9/11 attacks and since then many countries have been producing and exporting them, most notably Israel, Turkey and China.
Turkish Bayraktar TB2
Azerbaijan had acquired a substantial fleet of Turkish Bayraktar TB2 and Israeli kamikaze drones that allowed it to decimate the Armenian ground forces and Russian air defense systems.
How Turkey Outclassed The UK With Their Own Technology To Develop One Of World's Most Lethal Drones?
Turkey has reaped the benefits of the performance of its drones in the Nagorno-Karabakh war with multiple nations lining up to procure the country's unmanned systems.
The country has sold its Bayraktar TB2 armed drones to countries like Azerbaijan, Ukraine, Qatar, and Libya so far. Poland recently became the first NATO nation to buy 24 Bayraktar TB2 drones from Turkey and according to reports, another NATO member from Europe, Latvia, may follow suit.
Many other countries have expressed their interest to buy Turkish armed drones.
There have been reports that Pakistan has expressed deep interest to acquire TB2 drones from Turkey and going by the strong defense ties both nations enjoy, these speculations could soon turn out to be a reality.
The Bayraktar TB-2 drones, as demonstrated in the recent battle, can deceive modern air defense systems which include, as proven recently, Russian Pantsir and S-300 air defense systems.
Pakistan is also known to have acquired 50 Wing Loong II armed drones from China, which according to official Chinese media, could turn out to be a "nightmare for Indian ground formations in high-altitude areas," with India having the little capability to repel advanced stand-off weapons.
Both China and Pakistan are bolstering their unmanned attack capabilities, while India is preparing to lease the US and Israeli armed drones to boost its capability at the borders. India has so far employed its Israel-imported Searcher and Harop drones only for surveillance and reconnaissance purposes.
Is India Prepared To Counter China, Pakistan?
India is also acquiring new advanced Heron drones on lease from Israel to keep an eye on the activities along the Line of Actual Control (LAC) with China. The new fleet will have more capabilities in terms of anti-jamming capabilities and weapons, reports indicate.
The Indian Navy also equipped itself with two Predator drones leased from the American firm General Atomics. The MQ-9B SeaGuardian drones will be deployed for long-range missions over the Indian Ocean and the Bay of Bengal.
With an endurance of 33 hours and the ability to fly 40,000 ft above sea level, MQ-9B drones are a significant asset for the Navy to keep an eye on the vast ocean areas.
Additionally, as EurAsian Times reported, India is likely to procure US-made MQ-9 Predator-B drones days after reports of the acquisition of Heron TP UAVs on lease from Israel.
Often called the "Predator-B," this was the first hunter-killer UCAV (unmanned combat aerial vehicle), meaning that it can independently recognize and annihilate targets. The Predator-B is a battle-tested drone and was deployed in Syria, Iraq, Afghanistan, Iran, Libya, Mali, Yemen, Pakistan.
Earlier in March, Indian media reported that the country has approved the purchase of up to 30 drones from General Atomics at a cost of $3 billion.
According to Bloomberg, the drones "will give the Indian Navy the ability to better monitor Chinese warships in the southern Indian Ocean, and equip the army to engage targets along the disputed India-Pakistan border in the Himalayas".
Can French Rafale Jets, Turkish Bayraktar TB2 Drones Protect Ukraine From A Potential Russian Invasion?
The drones have immense firepower, with the Reaper armed with four Hellfire missiles and two 227kg bombs, while the SeaGuardian equipped to carry out anti-submarine warfare and maritime surveillance.
China – A Rising Drone Power
Rivaling Turkey in the attack drone capabilities is China, which is fast gaining a major chunk of the global drone market, having snatched most of the business from the US and Israel in the last decade.
China has been exporting its models CH-4 and Wing Loong I, and now Wing Loong II to many countries, including Saudi Arabia, the UAE, Egypt, Iraq, and Jordan.
China is also arming India's neighbor Pakistan with advanced attack drones and the two countries are reportedly negotiating on joint production of some models.
With the US drone sales coming with a series of pre-conditions and restrictions, many nations are finding it more economical and feasible to buy weapons from China, which puts no condition on human rights concerns or political orientations.
India has expressed serious concerns about China arming its neighbors with a range of weapons, which include weaponized unmanned aircraft. India itself having signed two key pacts with the US – COMCASA in 2018 and BECA in 2020 – is in a position to lease or buy advanced attack drones from the US.
The two foundational pacts have paved the way for the country to acquire more lethal weaponry and share intelligence with the US.
Domestically, India is ramping up its drone capabilities by investing in the research and development of such projects with leading public institutions. One of the projects India's HAL is working on is modeled on the US project Skyborg, under which multiple unmanned aircraft and vehicles will team up with manned jets.
The drones will operate alongside fighters such as LCA Tejas and Rafale to boost the effectiveness of these planes.
India's indigenously developed medium-altitude long-endurance drone Rustom-2 is being tested this year after many shortcomings were overcome by the scientists at DRDO. The drone with its attack and surveillance capabilities will fly at over 27,000 feet for more than 18 hours.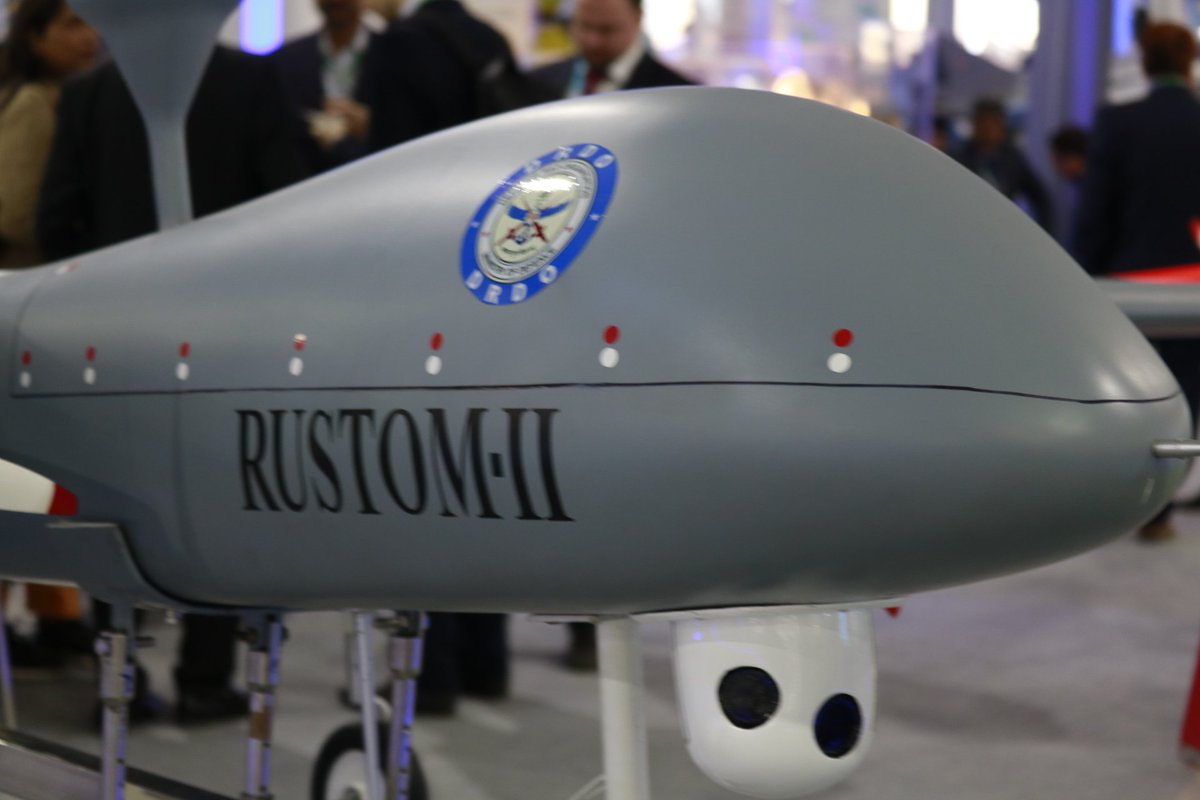 The current decade will witness an inexorable race for armed attack drones, which are a viable option both for their economics and offensive capability in a war.
With India arming itself with US, Israeli and indigenous drones and Pakistan turning to China and Turkey, the future warfare, be it over the vast oceans or high-altitude regions, looks clearly unmanned.
READ MORE